Build your dream on a strong foundation.
President Jason Richardson of Richardson Custom Homes announces its 35th anniversary this year.  Founded in 1984 by Ron and Vikki Richardson focusing on residential construction, this unique duo would combine their talents – Ron with an eye for construction and business, and Vikki with an eye for design – to create a thriving business. 
Recognized for top quality, stellar craftsmanship, and attention to detail, Richardson Homes has built and remodeled custom homes and commercial properties for more than 500 clients across SW Florida, from Port Charlotte to Marco Island, earning numerous industry awards along the way.
Team members consist of: Founder Ron Richardson, President Jason Richardson, Partner, Selections, and Design Consultant Vikki Richardson, Office Manager Linda Fernandez, and Administrative Assistant Jeri Richardson.
Richardson Homes takes pride in partnering with businesses that consistently deliver excellence and are aligned with their core philosophy. Their reputation centers around developing solid relationships with their clients and subcontractors. "We have clients that call us from 5-10 years ago needing assistance, and we are happy to take care of their issue," said Jason. "In fact, most of our clients have become lifelong friends, and most of our subcontractors have been with us for more than 25 years." 
Their philosophy, 'Build your dream on a strong foundation,' means clients work with a company that has survived volatile markets and has the experience and compassion to guide their clients accurately throughout the home building or renovation experience.  Since the beginning, their goal remains the same – to build homes of enduring quality, giving each client the utmost attention, conducting business with integrity and professional courtesy.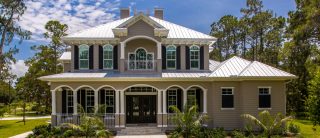 "My team and I navigate our clients through the entire process from design, to build, to completion," said Jason.  "Each project is unique.  Whether you are starting from scratch, need an additional room, or a complete renovation, we want to make you proud of your home."
 For more information, contact 239-694-8889, email info@richardsoncustomhomes.com, or visit https://richardsoncustomhomes.com/.