Outdoor Living is wildly popular in SW Florida! With an average of 271 days of sunshine in a year, coupled with our desire to get-together for virtually any reason, means outdoor entertaining happens year-round! State-of-the-art grilling equipment combined with beautiful islands, counters, and cabinets make the ideal focal point for your lanai.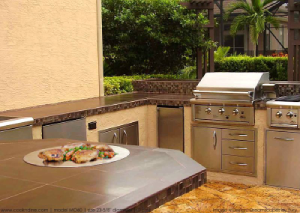 Functional and beautiful, your friends and family can watch as you prepare a delicious meal, while enjoying the beautiful outdoors. In addition, cooking outside eliminates the need to constantly run inside to check on the food, giving you back the gift of time with your guests.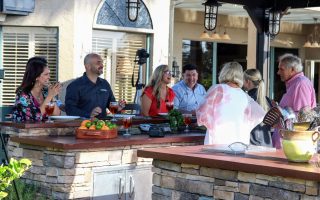 Outdoor kitchens come in many shapes and sizes, and can be customized to your desires. Certain layouts work better than others depending on how your outdoor living area will be used. In some instances, the layouts are dictated by the arrangement of the counter tops, major appliances and storage areas that create a working triangle the cook makes when moving from the refrigerator, to the sink, to the cooking area.
Richardson Homes can help you determine the best design for your lifestyle. Let's take a look at just a few options to get you inspired.
Single wall plans
The single-wall plan is ideal for efficient use of space in any outdoor living area, providing you ample room for dining and cozy furniture. The work triangle in this layout is more of a work line with all three kitchen zones along one wall, allowing you easy access to all the necessary equipment.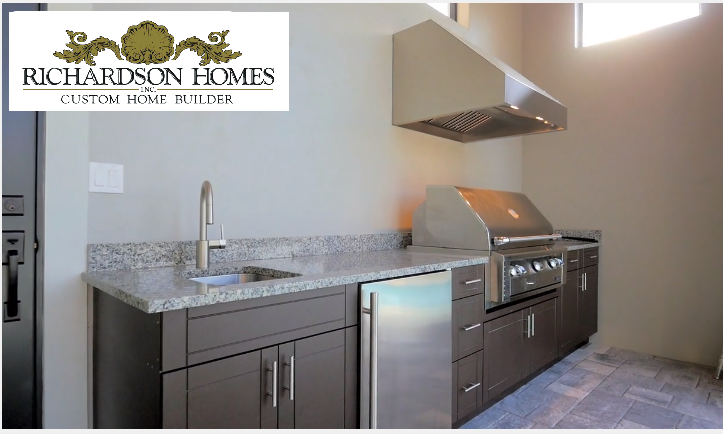 Adding a bar directly opposite, allows flexibility for the location of your main sink, or even an additional one. Incorporate a few stools and you have the perfect arrangement allowing your guests to relax; yet feel as if they are participating in the cooking.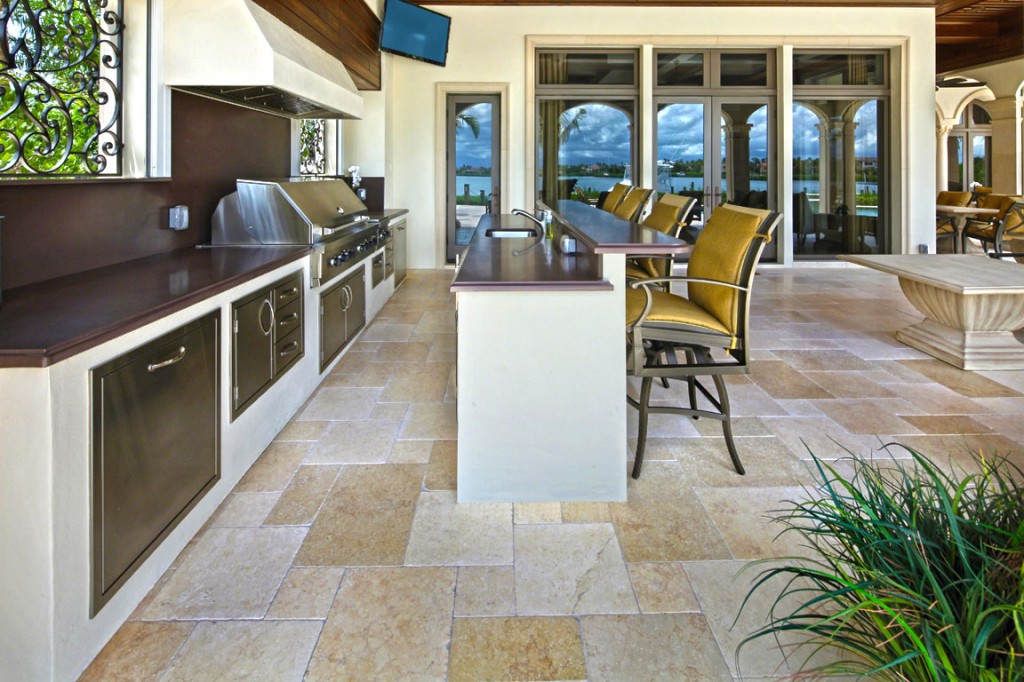 L-shape
This popular layout has a natural work triangle created from continuous counter space and workstations on two adjacent walls. This layout provides the cook with an efficient work area, and makes it easy to interact with guests. The efficiency of this layout gives you more space for cozy furniture. Some L-shaped kitchens incorporate an island into the design for storage and an extra food prep station.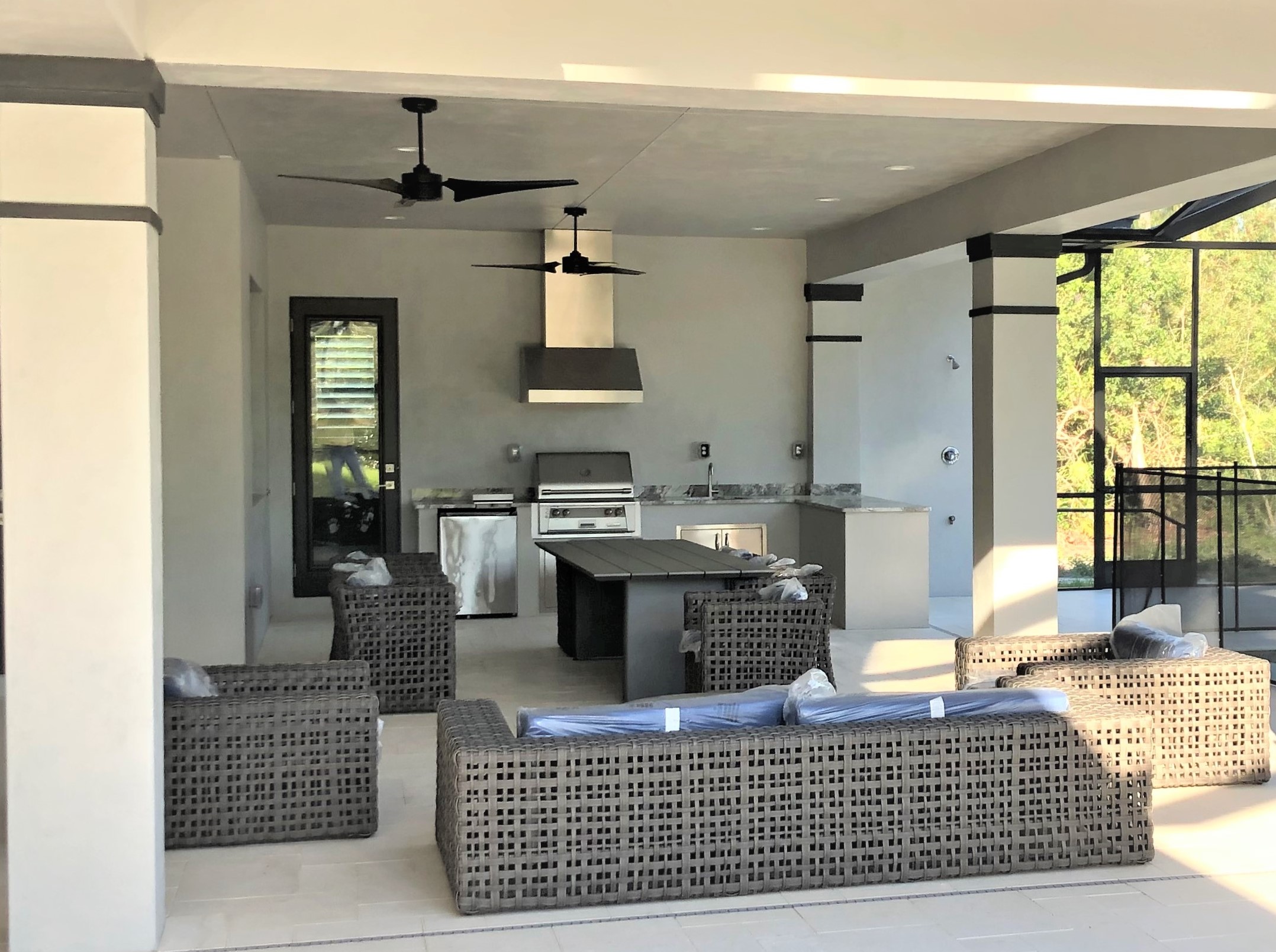 U-shape
This is the most versatile layout for a kitchen area of any size because it offers continuous counter tops and ample storage, which surrounds the cook on three sides. Everything is within easy reach, and the open workspace allows hosts to mingle with guests, while still being efficient. Other appliances such as a pizza oven, green egg, built-in ice maker, cabinetry, wine cooler or kegerator can be added.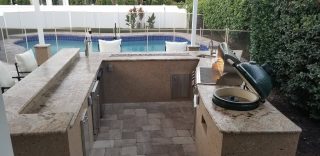 G-shape
Similar to the U-shaped kitchen layout, the G-shape offers the same amount of counter space and storage options that surround the cook on three sides. The difference with the G-shape plan is the peninsula or partial fourth wall offers additional cabinets for more storage.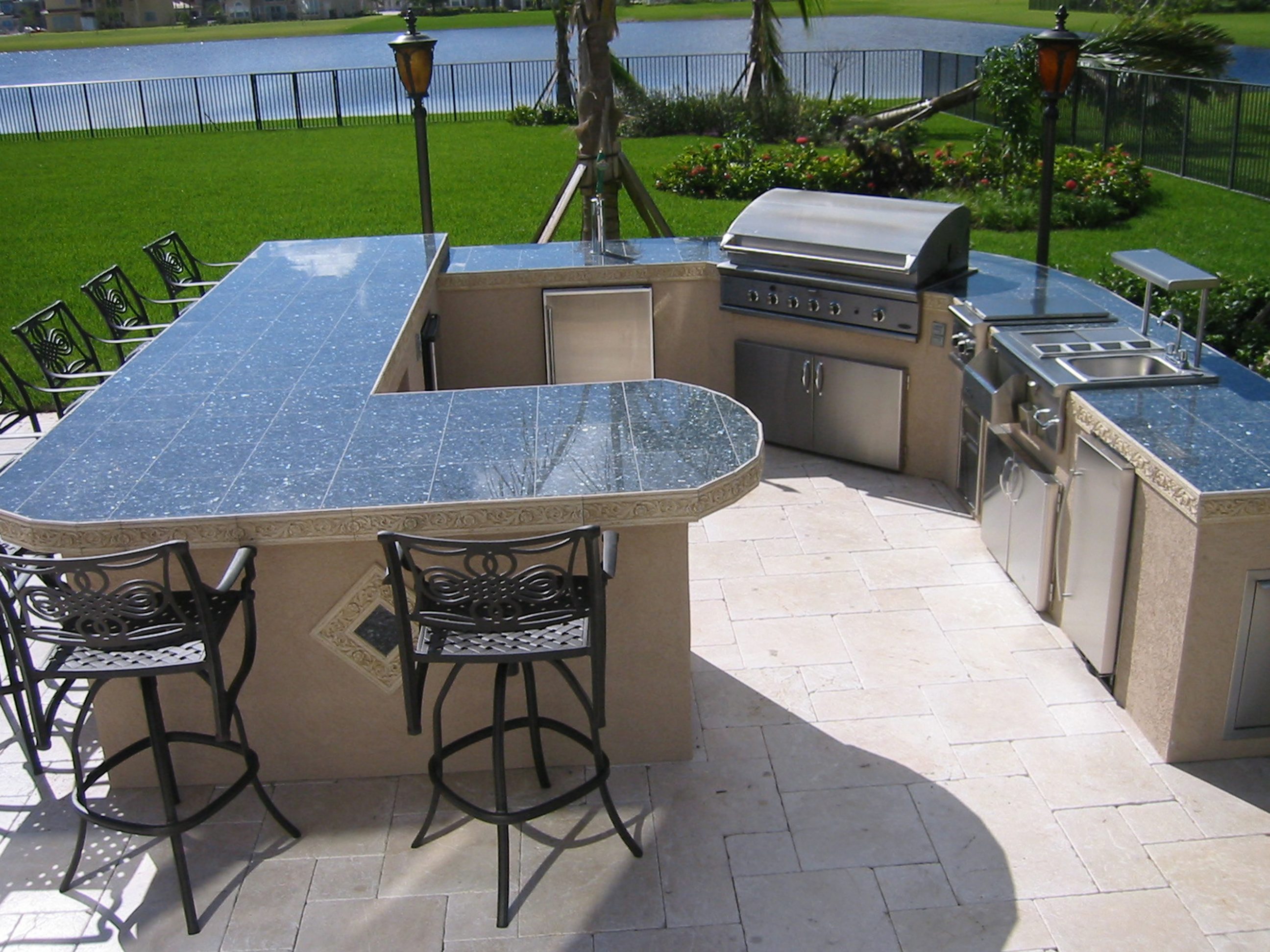 A well-designed outdoor kitchen will expand your entertaining area, and potentially increase the value of your home. As you think about which is best for you, talk to Jason from Richardson Homes, who can offer expert advice, guide you, and create a kitchen completely customized with your preferences. Whether building or renovating, we are here to help you live the Florida dream. Contact us, 239 694 8889.